Derek Skapes has been hiking, playing sports, landscaping, and has been passionate about wildlife/outdoors since he was a kid. Throughout his life, Derek has spent times working in the different aspects of Everarbor. His inspiration for creating the company stemmed from his experiences landscaping, traveling, working in wildlife research/care, arboriculture, horticulture, and clothing.
Derek graduated from Baldwin Wallace University with a bachelor's degree in Business Administration and Environmental Studies.  After college, Derek moved to Oregon, taking a position on a wildlife research team through Americorps.  He was quickly transferred to a forest service cabin in the Wenatchee National Forest/Oak Creek Wildlife Area in Washington while continuing his work for the Washington Department of Fish and Wildlife.  This is where he learned to appreciate the outdoors while living with no computer or television and split his own wood for heat.  His work included stream and habitat restoration, vegetation monitoring, and spent much of his time conducting research on Rocky Mountain Elk and Bighorn Sheep herds.  In his spare time, he traveled and backpacked throughout the state of Washington.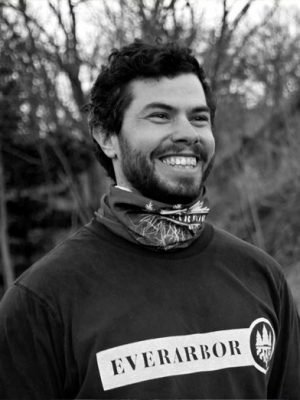 Derek moved back to Ohio and took a job with Lake Erie Nature & Science Center as a wildlife specialist. He conducted animal care and wildlife rehabilitation, coordinated volunteers, and managed a program of high school student volunteers. He led an expedition and educational trip with these high school students throughout Costa Rica. After 5 years at LENSC, he accepted a job as an environmental scientist in Southern California (Orange County).
Since making the move back to Ohio, while juggling time as a head varsity high school baseball coach, Derek has worked for Cleveland Metroparks as a wildlife research technician studying the habits, health, and population of white tailed deer, as well as coyotes. He then transferred to the forestry division in Cleveland Metroparks where he came to learn and understand arboriculture.
Derek spends much of his spare time carrying out duties as the owner of Everarbor and staying active through sports and hiking.
He resides in Lakewood, Ohio.